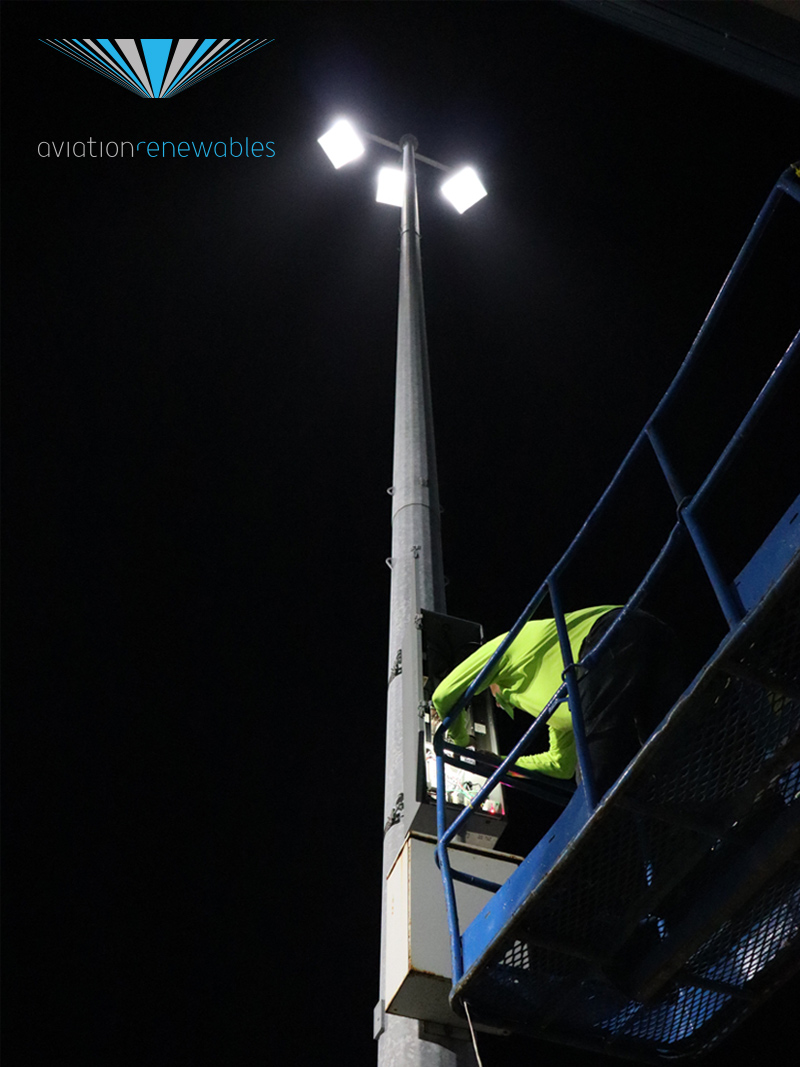 09 May

LED Apron Lighting Shipping to West African Airport

Aviation Renewables has been awarded a contract to supply LED apron lighting to a remote airport in West Africa. The region's aviation network is rapidly expanding, with more flights and passengers requiring reliable and safe airport operations, and increasing demand for 24/7 airport services.

Night operations require reliable and efficient flood lighting during the loading and unloading of aircraft. Additionally, investing in a well-designed system with high uniformity is a key part of maintaining safe work practices. By eliminating the risk of equipment damage and personal injury, overall operational efficiency is increased benefiting ground support, pilots and Air Traffic Control.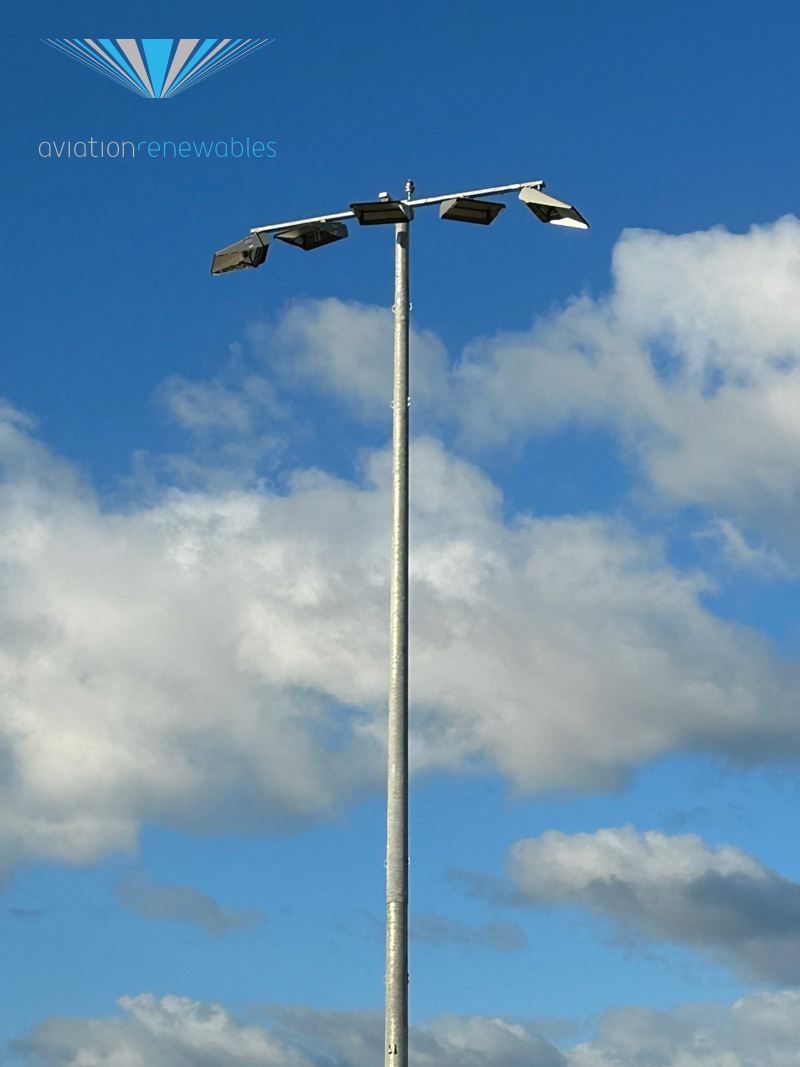 Airport Operations with LED Apron Lighting
Aviation Renewables worked with Musco Lighting to design an LED apron lighting system that combines energy efficiency, low maintenance, ease of installation and long operating life. The LED apron lighting system is designed to reduce energy costs and minimize the impact on the environment by using energy-efficient LED technology. The Musco LED apron lighting offers a 10-year warranty on performance, parts, and labor anywhere in the world. This warranty ensures that the system will perform optimally for a decade, with no additional costs for repairs or replacements.
Recognizing that specialized machinery and tools are difficult to find in the remote location, the system is pre-engineered and pre-fabricated to ensure quick and efficient installation on site. The system's plug-and-play design allows it to be easily installed without any need to access the pole top during installation. Any special tools required are shipped with the system, and the only piece of equipment needed on site is a crane capable of lifting the pre-cast concrete bases and 1000kg poles.
The pre-fabrication and pre-aiming in the factory ensures accurate alignment of the luminaires and bright uniform light levels compliant to ICAO requirements. The ICAO-compliant design enhances visibility for pilots and maintenance crews, reducing the risk of accidents and increasing safety at the airport.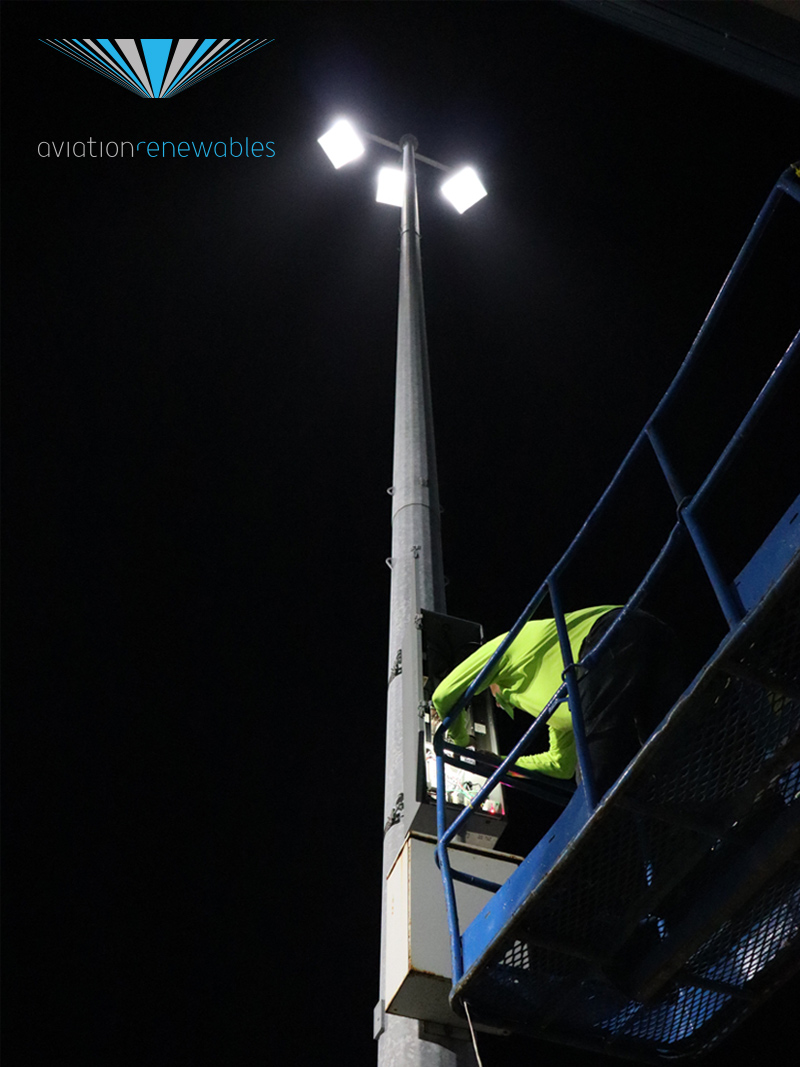 About Aviation Renewables
Aviation Renewables delivers savings to airports globally. Our safe, reliable and cost-effective LED lighting and power solutions equip runways and helipads globally. We focus on design, delivery, installation, on-site commissioning, and technical support for a wide variety airport visual aids. Our core tenets are: Cost Savings, Safety, Environmental Stewardship, Full Support.
Our goal is to get the best product in each customer's hands, based upon their specific requirements. Regardless of your location, we can help you with: LED airfield lighting, portable runway lighting, LED apron lighting, LED Wind Cones, LED Helipad Lighting, Reflective Markers and Solar Power Systems.
For more information on LED apron lighting solutions for the international aviation industry, please visit www.aviationrenewables.com.