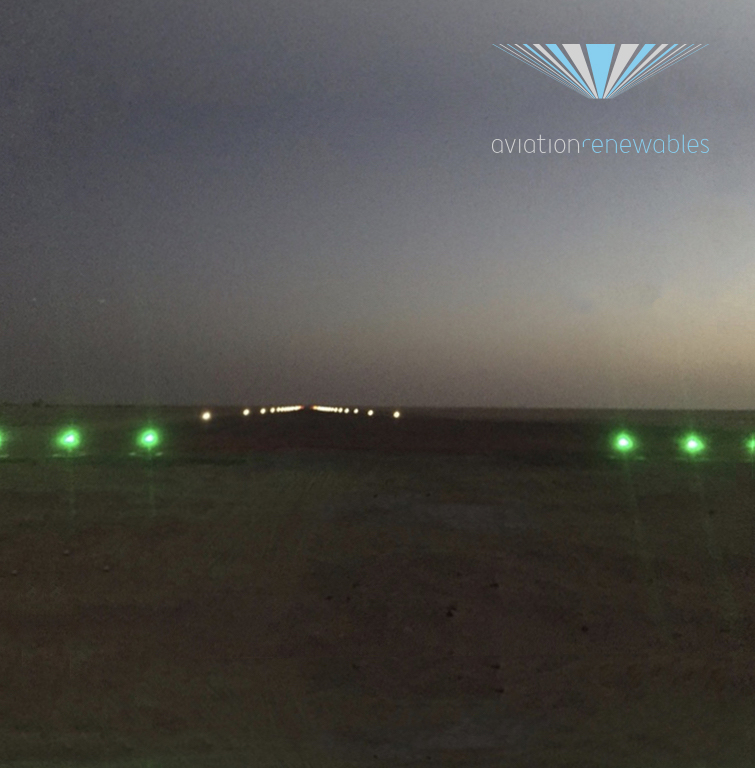 19 Dec

Aviation Renewables Awarded Contract for Solar LED Airfield Lighting System

For Immediate Release

Victoria BC, Canada. 15 August, 2017 –/

Aviation Renewables has been awarded a turnkey contract to supply, install, train and commission a solar LED airfield lighting system in Eastern Africa. The solar LED airfield lighting system will be capable of supporting VFR, non-precision and medevac operations at a regional airport, servicing an industrial site on the southeastern seaboard of Africa. The airport consists of a paved 2,000-meter runway, two taxiways, parking apron and terminal building. After a comprehensive design and operations analysis, Aviation Renewables will deliver a complete solar LED airfield lighting system consisting of: solar LED runway edge, solar LED threshold and solar LED taxiway lighting along with two Solar Series LED PAPI systems, two solar LED windsock lighting kits, solar LED obstruction lighting and a control and monitoring system to be installed within the Air Traffic Control tower. The control and monitoring system includes a hand held 2.4 GHZ remote control network, which permits a variety of touch-screen control functions for the solar LED airfield lighting system including: on/off control, intensity selection and diagnostics for battery autonomy, network allocation, light grouping and range control.
Aviation Renewables To Install and Commission Turnkey Solar LED Airfield Lighting System
Aviation Renewables will provide on-site installation support; training; and commissioning of the turnkey solar LED airfield lighting system. Two Solar Series 4-Box LED PAPI systems will be powered by standalone Solar Series power systems operating from the control and monitoring system located in the ATC tower. The client, who operates a large-scale resource facility, required a semi-permanent LED airfield lighting solution in order to improve safety for their fly-in-fly-out jet operations before the reconstruction of a new airfield nearby could be completed. With challenges of theft, maintenance and having to move the entire LED airfield lighting system within 1-2 years, the customer emphasized a turnkey solar LED airfield lighting solution that provided portability, security, reliability and ICAO compliant operating specifications from a proven, reliable supplier.
With a turn-around time of less than 10 weeks, Aviation Renewables will meet the customer's expectations at roughly one fourth the cost by installing a solar LED airfield lighting system compared to the costs of installing a conventional LED airfield lighting system which was considered in the initial engineering design analysis. As the most proven, experienced and trusted turn-key integrator for off grid, autonomous, solar LED airfield, helipad and obstruction lighting systems in the industry, Aviation Renewables continues to lead the industry in efficient, low cost and reliable airfield LED airfield lighting solutions. For more information, please visit Aviation Renewables.