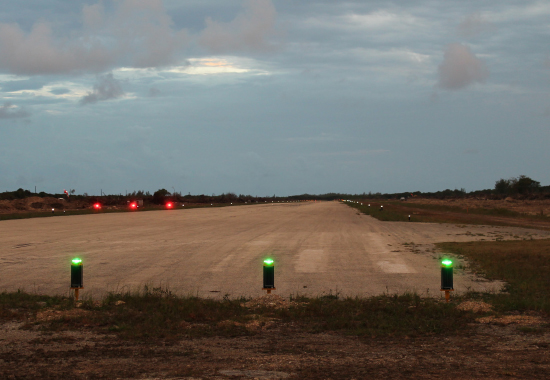 06 Jul

Solar Shines bright in Caribbean Airports

For Immediate ReleaseVictoria BC, Canada. 20 July, 2016 –\

Solar Shines Bright in Caribbean Airports & Aviation is a Vital Link, LED Airfield Lighting is Critical & The Safety and Financial Benefits Continue Long After Initial Purchase & There is Lots of Sun Where Electricity is Expensive

Dozens of islands within the Caribbean have led the transition to Solar Airfield Lighting over the past decade. Currently there are solar LED airfield lighting systems in The Bahamas, Dominica, Barbados and Antigua, to name a few. This transition has benefited the airports in areas of operations, safety and finance.
Aviation is a vital link, and lighting is critical
Caribbean islands face a unique challenge: they are very dependent on aviation, and electricity can be very expensive.  The Bahamas, for example, is composed of hundreds of islands spread over a wide area.  These 'Family Islands', as they are known, have dozens of airports to support the movements of goods and people around the country.  Almost all aviation in the Bahamas is during the day, as airports historically had no lighting.  This posed a major problem in the event of medical emergencies that necessitated evacuation to larger centers, as the MEDEVAC aircraft would attempt landing in some very precarious situations.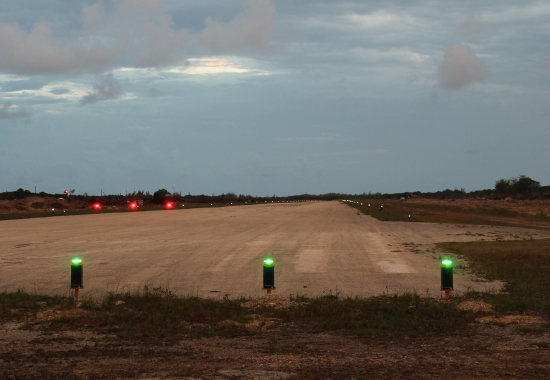 Starting in the mid-2000s, the Bahamas started an aggressive project to equip Family Islands airports with solar airfield lighting. Over the course of the past decade, more than 30 airports have received runway, threshold and taxiway lighting – all solar powered.  The solar airport lighting is controlled by a radio signal, so the lights are quickly activated by ground staff at the touch of a button. For some of the busier international airports, solar powered LED PAPIs, approach systems, wind cones, signs, apron lights and elevated guard lights have also been installed.
The safety and financial benefits continue long after the initial purchase
One of the biggest drivers to continue the expansion of the Solar Airfield Lighting project in the Bahamas is the cost savings. Cost savings are realized through the ease of installation, low maintenance, and worker safety. The Bahamas islands are largely made of coral, which is notoriously difficult to dig or trench into. This made the prospect of installing conduit and cables a long and tedious task. In addition, the Bahamas islands tend to be very low lying, and are subject to flooding when a hurricane hits. In their experience with conventional lighting, the saltwater ingress into underground wiring connections does serious damage. Solar lighting, with zero wires and fully IP68 sealed fixtures, alleviates these concerns and saves a huge amount of money on installation.
As they try to operate the Family Island airports on limited budgets, there is a challenge getting properly trained staff to service any type of lighting fixture.  A conventional 6.6A runway lighting system not only requires constant maintenance, it can be extremely hazardous to electricians that are not properly trained on the complexities of an amperage system. Solar lighting needs very little maintenance, with a simple battery change required every 5-8 years. This keeps the job of providing lighting at the airports as simple as it can be, with no extensive training or staffing programs required.
There is lots of sun, but electricity is expensive
An ancillary benefit to the safety initiative is the cost savings on electricity.  Due to the remote nature of the Family Islands, diesel generators power all the electricity grids.  With rates in excess of 70 cents per KWh, the cost of operating a conventional lighting system that would use 10 to 20 kilowatts would be very expensive.  The solar lighting that was chosen has zero electrical input of any kind.  Once the initial acquisition is made, they operate for free.
The Bahamas and other Caribbean islands continue to enjoy the benefits of solar aviation lighting and continue to roll these systems out, island by island.