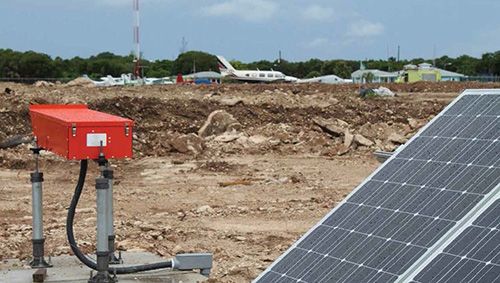 23 Jul

Runway Upgrades Raise Airfield Standards and Facilitate Nightime Operations at South Bimini Airport

A project by Aviation Renewables was recently featured in the July-August 2015 issue of Airport Improvement Magazine
Author: Dan Vnuk
Published in: July-August 2015

A series of airfield improvements at South Bimini Airport (YBS) is making it easier for travelers to get to Bimini, the tiny pair of Bahaman islands located just 50 miles off the east coast of Florida. That's good news for beachgoers, sport fishermen and any other North or South American travelers who want to escape to a tropical paradise without spending a lot of time getting there.

It's also good news for Bimini's overall economy and the local workers who were employed during the multimillion-dollar construction effort. During the days of Prohibition, Bimini was a popular spot for speakeasies and liquor stores, with rumrunners stashing their cash in its numerous cays. These days, it's attracting a different kind of business. Genting Group, a Malaysian conglomerate, began investing in the islands with the development of a 750-acre beachfront resort and casino on North Bimini, and then opened a similar property adjacent to South Bimini International Airport (YBS) – both under the Resorts World brand.
Runway Upgrades
Genting's South Bimini property boasts the closest offshore casino to the United States, and was mainly serviced by high-speed boat service from Miami when it opened in June 2013. With a daytime sea route in place, the resort owners soon turned their attention to facilitating 24-hour access to and from the island. YBS had daytime flight in place with Bahamasair, Silver Airways, Western Air and Flamingo Air; but its main 5,400-foot asphalt runway could not support nighttime traffic.
The solution involved a two-phase initiative that included a 900-foot runway extension, solar LED airfield lighting and other support elements such as a precision path indicator system, windcones and an automated weather observing system.
Local Development
Airport Maintenance Services Limited managed the multi-project effort, with Bahaman resident Atario Mitchell at the helm as president. "I am pleased and thankful that Resorts World and the Genting Group gave me the opportunity," says Mitchell.
He also appreciates the larger impact the YBS projects have had on the local economy and population. "My company and I were able to provide employment for local Biminites," he explains. "I remember feeling proud when a member of the crew expressed his gratitude to us for providing him this opportunity, because it allowed him to provide for his family. And this, ultimately, is what my company is passionate about."
During the first phase of the project, workers installed a new centerline, aiming points, threshold bars and holding/taxiway markings to improve overall safety at the airfield. Ten local Biminites were part of the crews and consequently received special training in tarmac cleaning and patching.
With Airport Maintenance Services finishing the first phase on time and on budget, Mitchell's company and subcontractors such as Bahamas Striping continued to earn subsequent projects. "Sometimes the crew worked almost 16 hours to complete a phase of the job in order to meet the deadline," he recalls. "But when the second stage of the airport runway construction commenced, the same crew was rehired with some additional staff. More Bahamian men need to be given opportunities to learn a trade and to become contributing citizens."
Jermaine Henfield is one local resident who received that chance. "I did not have a job for a long period of time, and the project helped me to provide for my kids and give them a good Christmas," says Henfield. "It's also about the bigger picture for me. Bimini needs to have tourists coming to the island all throughout the year, and we now have the runway to accommodate the airlines."
Lighting the Way, Off the Grid
The second phase of YBS' airfield upgrade included a 900-foot runway extension, but its main component was updating the airfield's lighting. Canadian-based ARC Aviation Renewables Corp. designed and supervised the installation of YBS' new solar LED system. Company officials note that the airfield lighting was operational in less than three weeks, and it cost a fraction of a conventional system. A team from Aviation Renewables traveled to South Bimini to provide guidance during installation, product training and commissioning. Because the system uses multiple products and components from several different manufacturers, proper installation, training and testing were particularly important to ensure long-term effectiveness.
"The versatile airfield light, monitored by an advanced radio frequency control system, forms the cornerstone of the airfield lighting system," explains Allister Wilmott, the company's president. "A redundant network propagates the control signal to every light on the airfield and has the added ability to be incorporated into our Solar Series line of solar LED lighting products. As a result, the entire airfield lighting system can be controlled from a single handheld controller and customized to the customer's individual needs."
A solar precision approach path indicator (PAPI) was installed at both ends of the runway to provide pilots with visual approach slope guidance. "The Solar Series is the most installed LED PAPI on the market that meets both International Civil Aviation Organization and Federal Aviation Authority photometrics," advises Wilmott. "The PAPI is powered by a frangible MAPPS: (Modular Autonomous Photovoltaic Power Supply)."
The MAPPS is completely off-grid, and designed to provide the airfield with more than seven days of autonomy. With proper use, the system shouldn't require any maintenance for up to five years, when a simple and cost-effective battery replacement will keep the system healthy for another five years, notes Wilmott. The company's MAPPS was an especially good fit for YBS because the airport's remote location makes electricity extremely expensive to purchase and skilled labor to perform maintenance extremely difficult to find, Wilmott adds.
Windcones from P. Wedge Windsocks were installed at both ends of the runway to provide wind direction indications to pilots. Like the other new airfield elements, they are internally illuminated by solar power. "The radio control system is incorporated into the windcone, ensuring that it will operate in unison with the other lights on the airfield," notes Wilmott. The self-contained units are the most rugged brand of windcones in the industry and have operated reliably on every continent for more than 50 years, he adds.
Solar Series LED Apron Lights were installed to facilitate aircraft handling and passenger movement at the airport, which is just 10 feet above sea level. Aviation Renewables notes that the lights are a first in the industry, because they provide complete off-grid solar operation for civilian aircraft facilities. YBS' new apron lights can be turned on or off during daytime or nighttime operations via radio control and are designed to withstand hurricane conditions and provide a minimum autonomy of five days continuous operation.
Aviation Renewables also added an automated weather observing system (AWOS) to support non-precision instrument flight approaches and flight planning. The AWOS system is designed and installed to be completely autonomous, and includes sensors and reporting systems that are compliant with International Civil Aviation Organization standards. Wireless signal transmission from the sensor site to the host computer in the terminal building simplified the installation and allows pilots and flight planners to access real-time local weather conditions via the Web.
Heavier Traffic?
Since completing the recent series of airfield improvements, YBS is able to accommodate more sophisticated flight operations, including nighttime service. Local officials now rank it as the second most pivotal airport in all of the Bahama Islands. Nassau's Lynden Pindling International Airport, which is the main international gateway to the islands and the fourth busiest airport in the Caribbean, is considered the "top" airport.
Resorts World Bimini, in turn, is building a 307-room luxury hotel on North Bimini next to its existing resort. The final phase of construction is scheduled to begin this summer and will add a restaurant, beach club, craft market and various facilities for water sports.
With even more reasons for travelers to visit Bimini, YBS will likely have more passenger volume to accommodate in 2015 and coming years. Perhaps terminal and landside improvements will be the next project fueling the local economy.
Please follow the link below to read the article, text is below:
http://www.airportimprovement.com/article/runway-upgrades-raise-airfield-standards-facilitate-nighttime-operations-south-bimini-airport