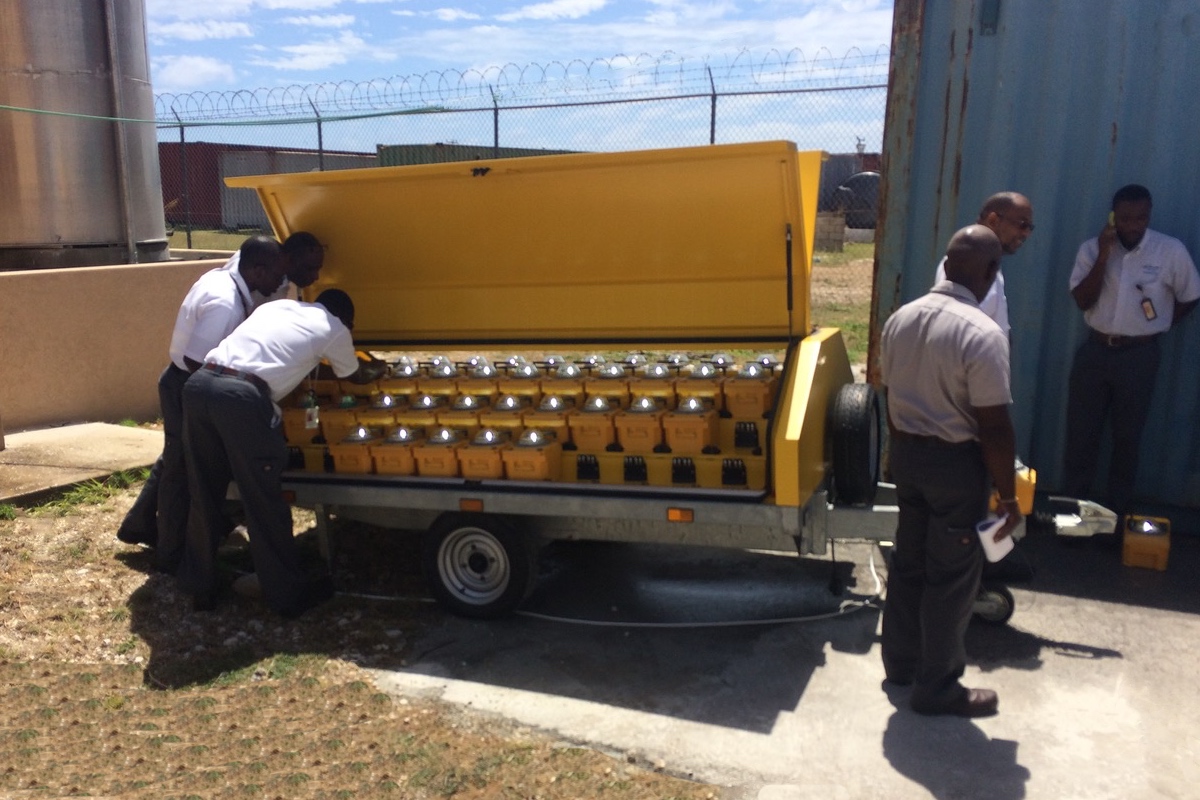 30 Mar

Portable Runway Lights Supplied, Trained and Commissioned by Aviation Renewables

Application: Portable LED Runway Lighting for Emergency, Construction & Natural Disaster Response Operations

Products:
Portable LED Runway Airfield Lighting System
Location: The Caribbean
Date: February 2017
Synopsis
Aviation Renewables was tasked with the supply, training and commissioning of a portable LED runway lighting system for an International Airport located in the Caribbean. The entire portable runway lights system solution is stored, transported and charged in the civilian designed mobile trailer. The airport is able to transport the equipment to any location within the air eld within minutes notice as a contingency on demand system, ready for quick deployment in the case of a power failure to the main runway lighting system or unforeseen circumstances such as a displaced threshold or natural disaster.
Challenge
The airport required an autonomous, ready to go portable LED runway lighting system consisting of runway edge and threshold lights capable of meeting ICAO & FAA non-precision medium intensity runway lightings standards. In addition, the customer required the system to be transportable with the ability to charge all lights within the trailer in order for the airport to be react within minutes to support 24/7 operations. The runway lights required a hand held radio control system capable of alternating LED runway lighting outputs or sending ON/OFF commands during both day and night operations. As part of the delivery, Aviation Renewables was contracted to train, deploy and commission a complete turnkey portable LED runway lighting system within a month of delivery.
Solution
The CALKIT Portable LED Runway Lighting system is the industry's most installed, versatile and proven battery powered LED runway lighting system for civil and defense operations. With simple drop-in charging and fast recharge times of up to 8 hours from a completely drained battery, the CALKIT system can be rapidly deployed in emergency, maintenance or construction operations while providing safe storage and easy charging of light units when the system is not in operation. Easily transported and controlled by an advanced radio frequency control system, the network propagates the control signal to every light on the runway acting as a self healing, self connecting RF MESH network.
Due to the risk of hurricanes throughout the Caribbean region, the airport identified their conventional powered airport lighting system as a possible failure point in the event of an emergency or natural disaster. The autonomous LED runway lighting system will mitigate this risk allowing uninterrupted, 24/7 operations to continue even after hurricane damage or black out failure to the main runway lighting system. In addition, it can be used as an alternate lighting system during planned construction or maintenance activities, offering the best combination of convenience, performance and ease of use. This Autonomous Lighting System has been operating reliably for a variety of customers on every continent for more than 40 years for both civilian and military customers.
View the complete Project Report and find more about Portable Runway Lights here.