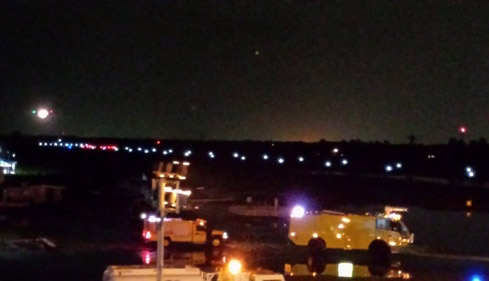 21 Jul

Inaugural Night Flights for Ogle Airport Solar Lighting System

Aviation Renewables designed the airfield lighting system, including Solar Series Windcones

***As Released by Ogle Airport, Inc***
Ogle Airport, Guyana. 16 July, 2015 –/

History was made last night when Ogle Airport received its first regional night flight when LIAT's ATR42 made a flawless touchdown at 21.54 hrs with 17 passengers aboard from Trinidad & Tobago immediately following a torrential downpour that threatened to flood the Airport and postpone the historical occasion.

Director General (ag), GCAA, Chaitrani Heeralall, accompanied by senior GCAA staff and the Director General of the Eastern Caribbean Civil Aviation Authority (ECCAA), Donald Mc Phail, visiting from Antigua for the occasion, were all there to observe the landing and mark the occasion.

The LIAT flight originally scheduled to arrive at 19:40 hrs was forced to postpone its departure from Port of Spain because of the huge storm which engulfed the capital city and bucketed rain on the Airport and its approach just after sunset last night. Passengers booked on the historical flight were forced to drive through blinding rain seriously affecting visibility and a flooded East Coast highway approach to the Airport in order to make their flight.

The skies over the Airport began to clear at about 21:00 hrs and at 21:45 hrs when the lights of the LIAT aircraft appeared over the North West approach to the Airport, visibility was near perfect for the landing.

Thirty nine passengers boarded the inaugural flight for Barbados after a quick turnaround of the aircraft for a 22:37 hrs departure rescheduled to arrive at approximately 00:40 hrs.

LIAT's expanded schedule will now include night flights between Guyana and Trinidad & Tobago, departing Piarco Airport, Port of Spain, at 19:40 hrs (7:40 p.m) and arriving at Ogle Airport at 20:40 hrs (8:40 p.m), every Monday, Wednesday, Friday and Sunday and between Guyana and Barbados, departing Ogle Airport at 21:10 hrs (9:10 p.m) and arriving at Grantley Adams Airport, Barbados, at 23:10 hrs (11:10 p.m).