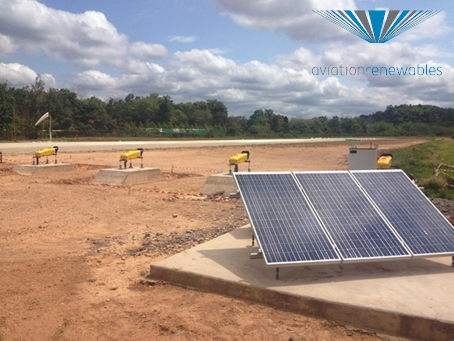 06 May

Two Solar Series LED PAPI Systems Installed in Lao PDR by Aviation Renewables

For Immediate Release
Victoria BC, Canada. 5 May, 2015 –/

Aviation Renewables has recently returned from Lao PDR after delivering, installing and commissioning two Solar Series LED PAPI systems at a private airport. With a particularly steep approach due to surrounding terrain, the client sought a solution that would increase the safety margin on approach, and guide pilots to the threshold at the proper height to land and stop safely on the relatively short runway. As an existing runway without any electricity service, the airport sought a solution that would allow the runway to remain operational during installation by avoiding the need to lay conduit and electrical wiring.
Solar Series LED PAPI
Working with Aviation Renewables, the Solar Series 4-box LED PAPI, powered by the MAPPS solar power system was deemed the best choice for reliability, battery autonomy, and historical performance. The radio controlled PAPI systems allow remote control of both PAPI systems from the terminal building, and enable the airport staff to quickly activate the PAPI system when contacted by an inbound aircraft. The LED PAPI is virtually maintenance free: with a simple battery replacement the only scheduled maintenance after 5-7 years. Aviation Renewables traveled to the site to offer installation, training and commissioning support. Both PAPI systems were installed within 4 days of arriving on site, with zero impact on airport operations. A team of airport personnel were then trained on the operation of they system over the course of one day
With over 20 Solar Series LED PAPI systems installed worldwide, Aviation Renewables is the market leader for solar-powered PAPI systems; offering full design, installation, training, commissioning and support of each system.
In addition to the LED PAPI systems, solar powered LED Obstruction Lighting was provided to light obstacles in the approach path. Both ICAO Medium-Intensity Obstruction Lighting (MIOL) and ICAO Low Intensity Obstruction Lighting (LIOL) were provided along with solar power systems. The solar power systems have a minimum of 10-days autonomy, enabling them to reliably operate without the need for an external power source in this remote area.
About ARC – Aviation Renewables Corp.
Aviation Renewables works with and represents manufacturers that produce green-tech and energy savings solutions for the aviation industry while acting as a centre of excellence for airports, industry stakeholders, customers and a global distribution network. Aviation Renewables combines unique technologies from leading manufacturers to create customized solutions for the benefit of the industry, environment and its global customers.
View more in Aviation Renewables offers solar LED airfield lighting solutions.