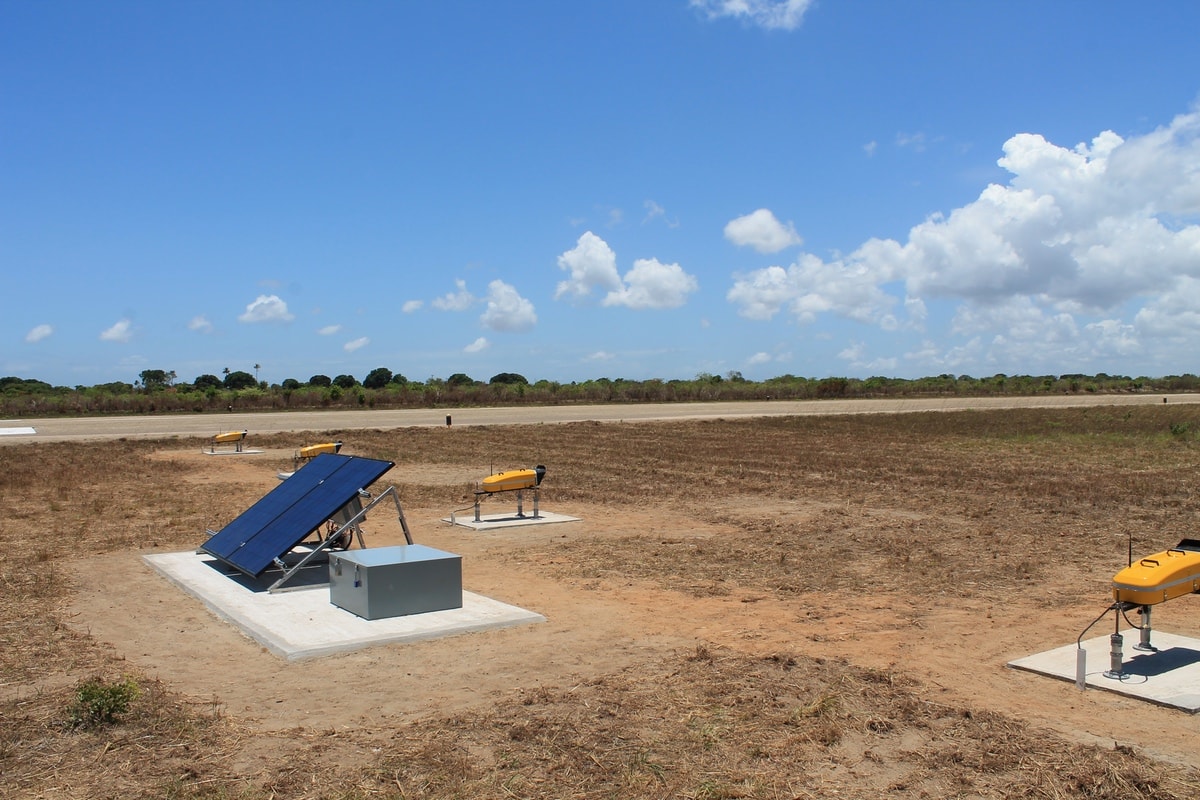 04 Jun

LED Runway Lighting System Sustaining 24-7 ICAO Compliant Operation

Application: Solar LED Runway Lighting System for Sustaining Operations

Products:
Solar LED Runway Lighting
Solar Series LED PAPI
Solar LED Taxiway Lighting
Solar LED Windsock Lighting
Location: Eastern Africa
Date: October 2017
Synopsis
A large fly-in-fly-out industrial site in East Africa required 24/7 operational capability at the coastal regional airport. Working with Aviation Renewables, the company selected a fully ICAO- compliant Solar LED Runway Lighting System that will support operations during night and inclement weather. Aviation Renewables was on site to manage the installation, commissioning and training of the system.
Challenge
The customer required 24/7 operations at their airport as part of their risk management for Medevac situations and charter aircraft operations. A fully ICAO-compliant system would be required to satisfy the operations, safety and insurance requirements. Given that the airport sits in a residential area, the system needed special security requirements to mitigate the risk of theft. In addition, the solar LED runway lighting system needed to be easily removed and re-installed at a new airport closer to the customer's facility when the construction is completed in 2019.
After careful consultation with the client, Aviation Renewables designed a complete solar LED runway lighting system to meet the operational demands, security requirements; safety protocols and overall budget set by the client. The end result was a fully integrated, solar LED runway lighting system that is wirelessly controlled by a single handheld remote controller or USB for touch screen command and control functionality. The selected system includes Solar Series LED PAPI systems; solar LED runway and threshold lights; solar powered LED taxiway lights; solar powered LED windsock lighting and a 2.4Ghz wireless Mesh Network control system for complete system operation and diagnostic functions.
Solution
Working with airport personnel, Aviation Renewables was able to supply a portable airfield lighting system capable of operating in the challenging climate of Canada's far north. The system is able to be deployed on either the primary or secondary runways at Whitehorse. Should the airport require the portable airfield lighting systems for operations at other airports in the territory, the systems can be towed securely and simply by most tow vehicles. In addition, the intl. airport and Yukon Government will retain the ability to respond to unforeseen emergency situations such as electrical power failures, natural disasters and nec- essary maintenance requirements such as construction works, electrical airfield ground lighting maintenance, or training exercises.
With budget demands and tight timelines, Aviation Renewables was able to meet the airport's expectations for runway safety, TP312 compliance, economic cost savings and long-term operations capability over the next twenty years. The entire system was delivered and commissioned within 6 weeks of the contract award.
View the complete Project Report and find more about LED Runway Lighting here.