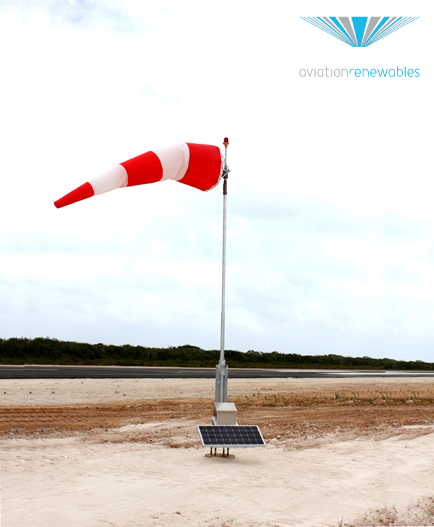 05 Nov

Solar LED Wind Cones Supporting Caribbean Island Airports

For Immediate Release
Victoria BC, Canada. 05 November, 2015 –/

Aviation Renewables has been issued a contract to deliver multiple units of its Solar Series LED Windcones and Windsocks for international and regional airport operations within the Caribbean. The Solar Series LED Wind Cones have been installed in multiple locations throughout the Caribbean, and continue to prove their reliability in this tough environment. With all-aluminum construction, the windcones do not rust in the humid salt-laden air, and have continued to improve safety of operations for both daytime and nighttime operations. Using high brightness LEDs and a rugged in house fabric, the internally lighted windsocks will be illuminated to support nighttime take off and landings. By installing the Solar Series LED Wind Cones, the airport benefits from significant up front capital and infrastructure costs along with the elimination of continuous maintenance and energy costs. As an off grid solution, the island airports further reduce their environmental footprint by going green. Manufactured with a patented swivel, LED obstruction light and a pole mounted solar power operating system, the internally lighted Wind Cone provides reliable, care free operation in the challenging equatorial conditions of the Caribbean.
Solar LED Wind Cone
Solar Power windsocks and windcones continue to be relied upon for civilian, defense, private and humanitarian aid operations for fixed wing, helicopter or on ground training exercises in virtually any location worldwide. Operating in the most challenging environments for both permanent and portable operations, the Solar Series LED Wind Cones and windsocks continue to be industry's leading choice for off grid installations.
Benefits of Solar LED Airfield Lighting
The benefits of solar powered LED airfield lighting for the aviation industry are numerous. With no infrastructure requirements or power inputs, solar powered LED airfield lights enable airports, heliports and tower erectors to easily and cost effectively light any runway, taxiway, helipad or obstruction. Self-contained solar powered LED airfield lighting also requires very little maintenance due to the inherent long lifespan of LEDs. The savings add up over time, and the total cost of ownership for solar powered LED lighting is significantly lower than conventionally powered technologies. With no trenching or cabling during installation and no required electrical power connection, solar LED airfield lighting delivers effective cost savings while minimizing the impact on environmental resources.
About ARC – Aviation Renewables Corp.
Aviation Renewables consults for manufacturers to provide solar LED airfield lighting, solar LED obstruction lighting, solar LED heliport lighting, solar power systems and green-tech energy savings lighting and power solutions for the international aviation industry. Acting as a centre of excellence for the aviation industry including stakeholders, customers and its global distribution network, Aviation Renewables delivers solar LED runway lighting, taxiway lighting, heliport lighting, obstruction lighting, runway guard lighting, wind cone lighting, airfield sign lighting, PAPI and APAPI and airport beacon lighting. Combining unique technologies from industries best manufacturers, Aviation Renewables has created the Solar Series aviation lighting and power line for customized solutions such as LED runway lighting, LED taxiway lighting, LED obstruction lighting, LED heliport lighting, LED runway guard lights, LED airfield signs and LED wind cones.
View more in Aviation Renewables offers solar LED airfield lighting solutions.