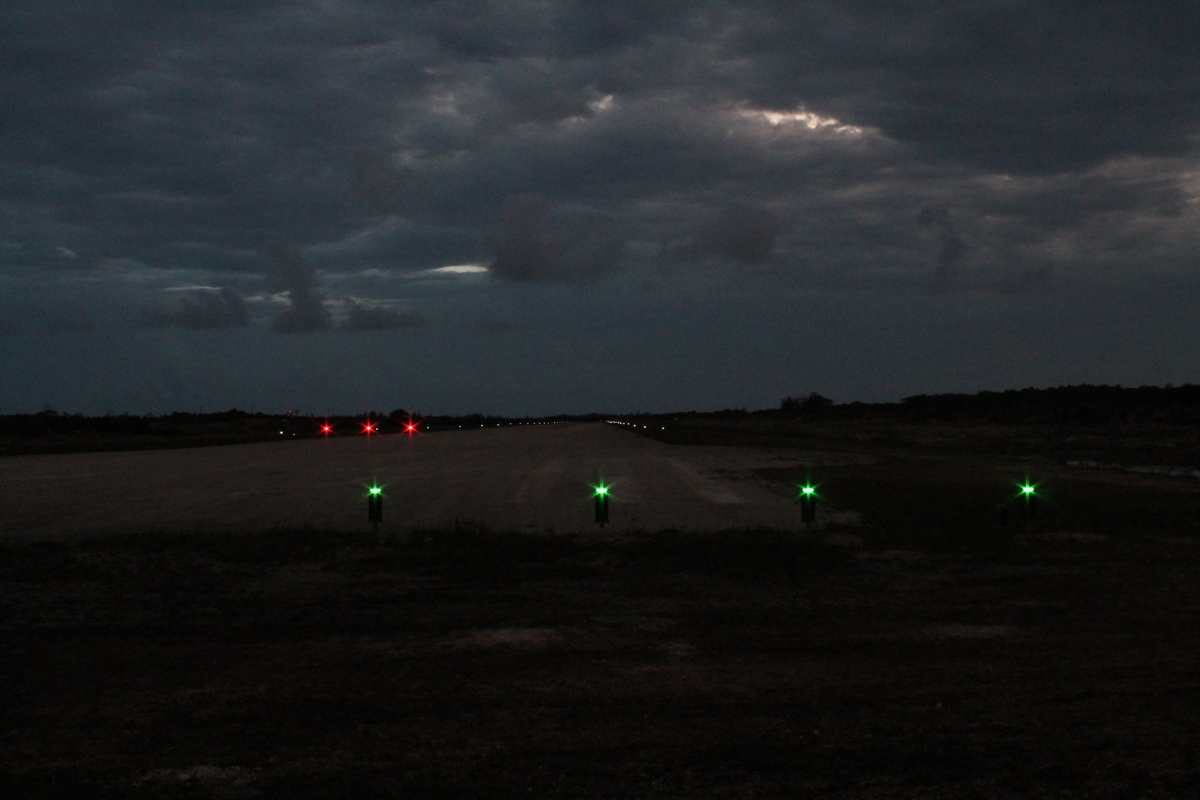 22 Jan

LED Airfield Lighting System Installed in the Caribbean by Aviation Renewables

Application: Permanent Solar LED Airfield Lighting System for day and night operations

Products:
Solar LED Runway Lighting
Solar Series LED PAPIs
Solar Series Wind Cones
Solar LED Apron Lighting
Solar Taxiway Lighting

Location: The Caribbean
Date: 2015
Synopsis
LED Airfield Lighting – Aviation Renewables designed and oversaw the installation of a solar LED airfield lighting system in the Caribbean. The system features Solar Series LED airfield lighting solutions. With an urgent need to be operational, the entire system was installed and operational in less than 3 weeks time at a fraction of the cost compared to a conventional system. The project have been successfully completed, with Aviation Renewables leading the design and installation of this, the most complete solar LED airfield lighting system worldwide.
Challenge
The client required a new LED airfield lighting system in order to accommodate night landings. This project was in conjunction with a large expansion, and the developer needed to enable 24-hour access to and from the island. Due to local regulations, the lights needed to be controlled by a ground- based controller, so only known aircraft would be able to utilize the system. With limited access to electricity, solar powered LED airfield lighting was the ideal solution. The developer enlisted Aviation Renewables to design, train and commission a complete turnkey solar LED airfield lighting system to accomplish these goals. Working through several phases of expansion to the airport, Aviation Renewables has returned multiple times to lend assistance and expertise in the relocation of the Solar Series LED PAPI system and other solar airfield lighting equipment.
Solution
The need for a simple yet complete solution was showcased in this project. Working with several suppliers, Aviation Renewables was able to ensure that the entire airfield lighting system could be controlled from a single handheld controller; and simply activated with the touch of one button. The system features fully self-contained solar airfield lighting runway edge, threshold, taxiway, turnbay, approach and apron lighting. Each of these lights is controlled by a common 2.4Ghz radio control system from a single handheld radio controller. As each light is standalone, the installation process is extremely quick, with the entire airfield operational in a matter of days. When airport expansion required the lights to be relocated, the lights were unbolted, moved and installed without the need for cabling or trench- ing. Each light being self-contained ensures redundancy and reliability of operations according to ICAO standards.
In order to provide visual approach slope guidance, a Solar Series LED PAPI is installed at both ends of the runway. The Solar Series PAPI is the most efficient LED PAPI on the market that meets both ICAO and FAA photometrics. The PAPI is powered by a frangible MAPPS Solar Power system, result- ing in a completely off-grid, fully controllable 4 box LED PAPI system. With proper use, there is zero maintenance required for this system for up to 5 years, at which point a simple and cost- effective battery replacement will keep the system healthy for another 5 years. This is ideal for this particular customer, as the remote location makes finding skilled labor extremely difficult.
View the complete Project Report and find more about LED Airfield Lighting here.