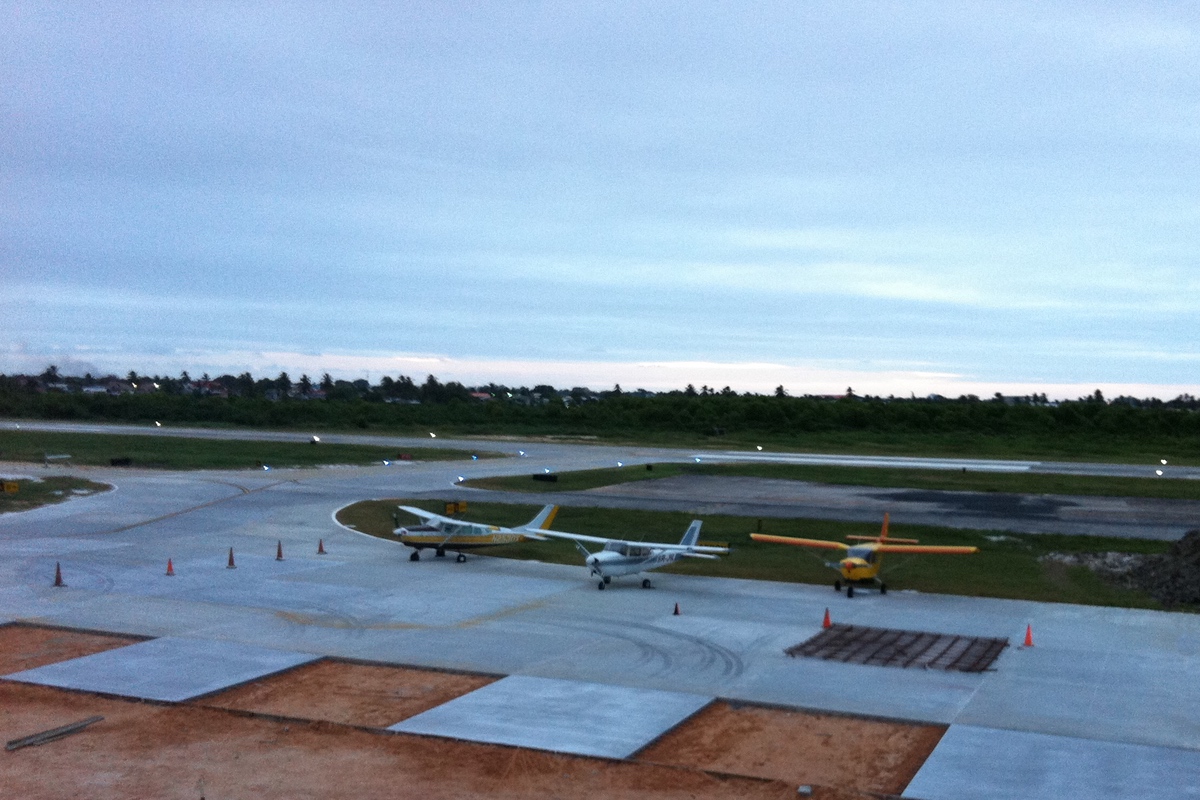 08 Oct

Solar LED Airfield Lighting System Delivered to South America

Application: Permanent Solar LED Airfield Lighting System for day and night VFR operations

Products:
Solar LED Runway Lighting
Solar Series LED PAPIs
Solar Series Wind Cones
Solar LED Apron Lighting
Solar Taxiway Lighting

Location: South America
Date: January 2013
Synopsis
Solar LED Airfield Lighting. Aviation Renewables was tasked with the design of a solar airfield lighting system for the extension of the runway at the International Airport, located in South America. The solar airfield lighting system features advanced LED airfield lighting and power solutions that operate from a remote command and control system.
Challenge
The International Airport required an upgrade to the airfield lighting system in order to improve the category of the airfield, thereby allowing larger aircrafts to take off and land at the airfield in both day and night VFR conditions. Airport management decided to extend the runway to a Class II rating, allowing international flights from neighbouring Caribbean and South American nations to operate at a regional class airport in association with Liat Airlines.
Solution
Aviation Renewables was tasked with the design and installation of a solar airfield lighting system featuring solar runway, threshold, approach, taxiway lighting and Solar Series wind cones. Using the advanced net- work, the runway, threshold, approach and taxiway lights are all controlled by a single command and control system via LCD. Because of the specialized network, the redundant wireless RF network communicate the command and control signals to the extremities of the airfield, operating with ease throughout the undulating surface and terrain. Working with Aviation Renewables, the installation for the solar LED airfield lights and Solar Series wind cones was achieved within days. With a fast approaching inauguration after the completion of the runway extension, the International Airport was able to conduct runway operations during the installation process due to the elimination of infrastructure, portability and a self-contained design.
Once the solar LED airfield lighting system was completely installed, both day and night operations were open to Liat Airlines. The completed project was estimated to be 20% of the cost of installing, operating and maintaining a conventional airfield lighting system.
After the installation, airport management stated "The equipment is working with a very high satisfaction level. On the 26th the inauguration night flight was successfully completed in the presence of the President of the country. They sent us congratulations for the excellent work done and wanted to transfer this greeting to Aviation Renewables' team!"
View the complete Project Report and find more about Solar LED Airfield Lighting here.